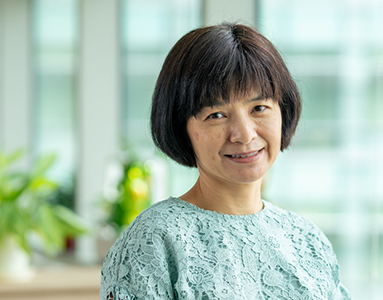 Dr Choo Su Pin

BMedSci, BMBS(Nottm), MRCP(UK), FAMS
Dr Choo Su Pin is a medical oncologist who specializes in gastrointestinal cancers including colorectal, upper gastrointestinal, pancreas, hepatobiliary, peritoneal, and anal cancers. She is also a visiting consultant at the National Cancer Centre, Singapore and Adjunct Associate Professor, Singhealth Duke-NUS Oncology Academic Clinic Programme, Duke-NUS Graduate Medical School Singapore.
She was the Deputy Head of the Division of Medical Oncology prior to private practice and Chief of the Gastrointestinal Cancer Department from 2012 to 2018.
Dr Choo graduated from the University of Nottingham Medical School, UK before returning to Singapore. She has fellowships from the Royal College of Physicians, UK and the Academy Of Medicine, Singapore and was trained in medical oncology at the National Cancer Centre Singapore (NCCS). She was one of the few overseas participants selected to participate in the AACR/ASCO Methods in Cancer Research Workshop, held in Vail in 2006. She also did a research fellowship at the University of California San Francisco where she worked on clinical trials for gastrointestinal cancers and undertook laboratory research on understanding neuroendocrine tumours. In 2011, Dr Choo obtained a SMU-Singhealth Graduate Diploma in Healthcare Management and Leadership. For her clinical care of patients, she received the Gold Excellent Service Award in 2010.
At NCCS, she was a Senior Consultant in the Division of Medical Oncology and co-Director of the Comprehensive Liver Cancer Clinic from 2014 till 2019. She was a driver of many initiatives and was instrumental in setting up the Experimental Cancer Therapeutics Unit (ECRU) at NCCS which focuses on drug development and early phase oncology trials. ECRU is now one of the leading phase 1 trial units in Asia. She has led many clinical trials in gastrointestinal cancers and was Deputy Head of Clinical Trials and Epidemiological Sciences department of NCCS, which is one of the largest clinical trial centres in Singapore, before she became Chair of the Clinical Trials Steering Committee. She also set up the gastrointestinal database at NCCS and was adjunct Principal Investigator at the Singhealth Investigational Medicine Unit. She is a member of the Asia-Pacific Hepatocellular Cancer Trials Workgroup and was in the steering committee for the AHCC006 trial which was an international multicenter clinical trial on liver cancer led from Singapore. Research areas of particular interest include pancreatico-hepatobiliary cancers and immuno-oncology. She has received more than $4 million in grant awards for her research work as principal investigator including grants from the National Medical Research Council and received numerous other grants as co-investigator. She continues to use her experience in clinical research and currently serves as Deputy Chair of the Singhealth Central Institutional Review Board.
She has publications in journals like Lancet, Nature Genetics, Journal of Clinical Oncology, Annals of Oncology and Cancer Discovery. She has also presented her research work at numerous overseas meetings. In her administrative capacity, Dr Choo has sat on various committees overseeing issues ranging from infection control, research space, public education, patient support and planning for the new cancer centre.
She was Adjunct Associate Professor, Department of Medicine, Yong Loo Lin Medical School, National University of Singapore where she has done both research mentorship and clinical teaching. She believes strongly in the need to educate each other in the latest developments in oncology and has organized numerous oncology conferences including the Best of ASCO in Singapore, Asia-Pacific Liver Cancer Experts Meeting and the Asia-Pacific Gastroenterology Cancer Summit. She was Local Chair of the ESMO ( European Society of Medical Oncology) Asia conference in Singapore and co-chaired the ESMO preceptorship in Gastrointestinal Cancers in 2017 and 2018.
Dr Choo was the first female President of the Singapore Society of Oncology (SSO) from 2018 till 2020 and was the Immediate Past President till 2022. Dr Choo is a founding member of the SSO-Cancer Immunotherapy Consortium and is the Honorary Secretary of the Chapter of Medical Oncology, Academy of Medicine, Singapore.
She is a council member of the Singapore Cancer Society ( SCS) and sits in the Cancer Research panel and Community Health committees within SCS.
Internationally, Dr Choo has served on advisory boards of pharmaceutical companies for gastrointestinal cancer drug development, delivered lectures as an invited speaker at both national and international conferences including Japanese Society of Medical Oncology (JSMO) Annual Meeting, American Society of Clinical Oncology (ASCO) Annual Meeting, Philippines Society of Medical Oncology and ESMO Asia. She is a faculty member of the gastrointestinal track of ESMO where she is co-chair of the Virtual Advanced Course in GI Cancers for ESMO in 2022 and involved in the colorectal track committee for ESMO Congress in 2023.
She was also a committee member of Pan-Asia Adapted ESMO Clinical Practice Guidelines for Hepatocellular Carcinoma and of the Asia-Pacific Liver Cancer Experts Consensus on Intermediate HCC. She is currently an expert panel member of HCC Connect which develops educational programmes for healthcare professionals around the world in liver oncology.
She also serves as a member in the ESMO Women For Oncology committee which advocates for women in the field of oncology.